Hvor:
Villa 4, Ullevål sykehus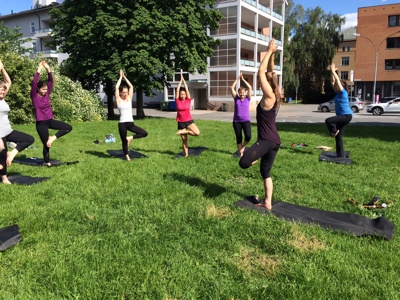 Når:
Ullevål: Torsdager kl 16.00-17.15

Hva:
Yoga

The classes follow the principles of Raja yoga, integration aspects of Vinyasa, Hatha and Yin yoga. The yoga sessions are open to all levels. The classes start with a gentle warming up, followed by sequences of more intense poses. Towards the end of the session the pace slows down to deeper, longer stretches. We end the class with a shavasana, relaxation. The yoga sequences vary per session, and aim to build muscle strength, enhance flexibility and general well-being of the body, and provide relaxation and rejuvenation.



Om instruktøren:
Imre van Kraalingen startet som ny instruktør 2.mai 2019. Dette er hva hun forteller om seg selv:

"My mother is a yoga teacher, which inspired me to start taking yoga classes for children at the age of 7. Yoga has always been an important part of my life.

Subsequently, I have done a 4-year Raja yoga and meditation teacher training. Raya yoga is an overarching yoga style, involving both hatha and yin yoga, but also more intense practices, such as vinyasa flow and power yoga. I have been teaching for almost 4 years now, on an international basis. Among other things, I have done voluntary work in Uganda, where I was teaching yoga to women who cope with domestic violence. After this experience I decided to do an intensive course on yoga therapy and coaching (70h). I have also worked as yoga teacher and retreat assistant in France during the last 3 summers. Since my arrival in Norway I have taught yoga on a freelance basis. This involved mostly stepping in if a teacher fell ill. Last year I was teaching a couple of classes at Kongens Yoga, and the past weeks I have been teaching in Tøyen, and at SATS. I am currently teaching classes once a week at my own department at UiO.

Furthermore, I am finishing up my master's studies in sustainable development at the University of Oslo. I have never felt so much at home as in Norway and I decided to stay here on a permanent basis. My understanding of Norwegian is good, and I am taking a language course to improve my speaking."